This entry was posted on Friday, August 3rd, 2007 at 11:05 pm and is filed under
Baseball
,
Yankees Rumors & News
. You can follow any responses to this entry through the
RSS 2.0
feed. Both comments and pings are currently closed.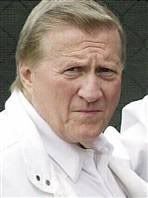 If you didn't already know, the New York Yankees are worth alot of money. What you probably don't know, YES, the cable network that carries the Yankees is worth even more. According to Fortune Magazine the Yankees are looking to sell the YES Network. The estimated worth of the network is 3 billion or more. The estimated worth is based on cash flow and on how other regional networks have been worth.
The YES Network (Yankees Entertainment and Sports Network) made its debut on March 19, 2002. It has claimed to be the number sports regional network in the country. It is home to the Yanks and to the NBA's New Jersey Nets. Ownership of the network belongs to Yankee Global Enterprises, the team's parent company, which owns 35 percent of the network. The remainder is controlled by the Goldman Sachs Group and Providence Equity Partners, and an investment group headed by former New Jersey Nets owner Ray Chambers.
Yankees owner George Steinbrenner's ailing health has become the major factor in all of this. One of other the reasons given for the sale is for estate tax reasons. Yankee brass have not given an indication of a possible sale,"The YES Network is not for sale," Yankees president Randy Levine said, although did give insight on perhaps having interest on the issue saying there was some "testing of the market."
"We've owned the network for the past six years. All we're doing is getting a current view from the marketplace on the network's value," Goldman Sachs spokesman Peter Rose was quoted Thursday by The Associated Press. "From Goldman Sachs' perspective, we have made no decision to sell. If we got an offer that in our view reflected the premium value of the network, we would consider it." .

Fortune Magazine first broke the story on their website early Thursday morning. ESPN's Mike and Mike in the Morning on ESPN Radio and ESPN 2 were the first to break the story to the public via media. It is also reported that if the Yankees do in fact sell the YES Network, then the team itself will be the next to go on the bidding block. The team is believed to be estimated at 1.5 billion. The sale of the network can be completed as early as the end of the summer. It is not known if the sale of the network would directly influence the everyday production of television programming, Yankees telecasts, Nets telecasts, YES Network personnel or to the Yankees themselves.
More on this story as it becomes available.