This entry was posted on Sunday, August 5th, 2007 at 9:16 pm and is filed under
Baseball
,
Yankees Rumors & News
. You can follow any responses to this entry through the
RSS 2.0
feed. Both comments and pings are currently closed.
Alex Rodriguez finally did it. On Saturday afternoon Rodriguez became just the 22nd player in Major League history to hit 500 HR's. He also became the youngest to reach that milestone at 32 years and 8 days old. He is the 3rd Yankee ever to hit 500 HR.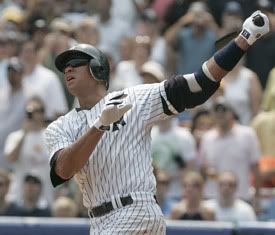 One pitch is all it took from Kansas City starter Kyle Davies and A-Rod put his name in the history books. Once the ball left the bat, A-Rod stood at home plate and watched history fly into the left field seats. The show of emotion from Alex as he rounded the bases was all you needed to see to know how much he wanted to get this historic homerun out of the way.
"I acted like a goofball running around the bases, but you only hit 500 once" said Rodriguez "I didn't know if it was going to be fair or foul. I was so relieved it stayed fair," Rodriguez said. "I hadn't hit one in so long."
Since hitting No.499 against these same Kansas City Royals 10 days earlier the rest of the team have gone on a homerun tear themselves, hitting 19 HR's. A-Rod finally joined the party yesterday. In a season filled with up's and down's both on the field and off the field, yesterday's milestone overshadowed all the low points of the season, for him and his team. Derek Jeter was the first one to greet Rodriguez at home plate as he concluded his trip around the bases, along with Bobby Abreu who also scored on the homerun. The rest of the Yankees, players,coaches and manager came out of the dugout to share their joy with Rodriguez on his lastest accomplishment. "I was a little embarrassed. I felt like we were in high school. All the guys coming out to shake my hand in the first inning." Once Alex reached the dugout, the Yankee Stadium crowd demanded he come out for a curtain call.
Via Filip Bondy, NY Daily News
"The energy of the fans put it in perspective," Rodriguez said. "It seemed they cared more about it than I did."
In attendance Saturday, A-Rod's wife, Cynthia Rodriguez and his agent Scott Boras. Everyone had a seat for this moment, unless you were late for the game. 500 HR's isn't what it once was, but it's still a special feat. At the age of 32 Rodriguez still has plenty of pop left in him. If he can stay healthy he can break the all-time homerun record. What the record will be at the time A-Rod starts flirting wit history again will be left to Barry Bonds, who also hit a historic HR yesterday, No. 755, tied for the most all-time.
Currently, A-Rod is four years and eight months younger than Bonds was when he hit No. 500. A chance for 800 career homeruns? Certainly. As we've seen the last two weeks, Rodriguez and Bonds both have glamourized for being on the verge of hitting historic homeruns. Every move, every at-bat, every game analyzed. Both went into prolonged slumps trying to get thier milestones out of the way and both finally hit them Saturday. For the Yanks, it was another magical afternoon in the Bronx, for A-Rod it was a trip into the record books and maybe even into the hearts of Yankee fans everywhere.