This entry was posted on Monday, August 13th, 2007 at 11:25 pm and is filed under
Baseball
,
Yankees Rumors & News
. You can follow any responses to this entry through the
RSS 2.0
feed. Both comments and pings are currently closed.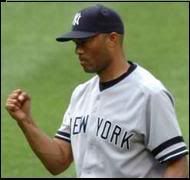 The Yankees won again on Sunday. Like you should be surprised. They're 23-8 since the All-Star break and have won eight of their last nine games. They stand only four games out of first place and are tied for the lead in the wild card.
This weekend marked a stretch of games – excluding their series against Baltimore this week (Mon-Wed) – that will make or break their season. They face the Tigers (8 games), the Angels (3 games) and the Red Sox (3 games) before the month is over. All three teams are playoff contenders. They just completed a three game sweep of the Cleveland Indians, who at the start of the series, sat ahead of the Bombers in the standings.
"I feel like we're the team…We've come full circle," said Andy Pettitte. "We were just struggling in all aspects of the game a few months ago. It was no fun losing. There's not a whole lot to complain about right now."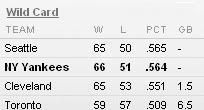 Those are the standings as we speak. With a month and a half left to go, can the Yanks maintain their hot streak and make it into October? It's a thought no one had in mind earlier in the season when they were 14 and a half back in May. Everyone is contributing from Cano to Caberera to Hughes to Chamberlain to Vizcaino. That doesnt include the All-Stars that are suppose to contribute. It's been a hot summer for most of the American League, but in the Bronx, it's been on fire.