This entry was posted on Tuesday, August 28th, 2007 at 9:26 am and is filed under
Baseball
,
Yankees Rumors & News
. You can follow any responses to this entry through the
RSS 2.0
feed. Both comments and pings are currently closed.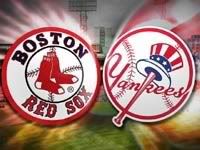 Yankees–Red Sox. A rivalry like no other in sports. The two teams begin a crucial 3 game series at Yankee Stadium Tuesday night.Andy Pettitte (11-7, 3.69) faces Daisuke Matsuzaka (13-10, 3.76) in the series opener. The Red Sox are coming into the Stadium fresh off a 4 game sweep of the Chicago White Sox , the Yanks, come off a 16-0 debacle at the hands of the Detriot Tigers in the finale of a 4 game series, which saw the Bombers lose 3 of 4 and lose 3 games in the standings to Boston.
Roger Clemens (5-5, 4.34) takes on Boston ace Josh Beckett (16-5, 3.21) on Wednesday night 7:05pm.The Rocket takes on his former team for the first time since rejoining the Yankees.
Yankees ace Chien-Ming Wang (15-6, 3.95) faces Curt Schilling, RHP (8-5, 4.11) in Thursday 1:05pm matinee. He is 2-1 in three starts against the Red Sox this season.

The two teams play again for their final series of the year Sept 14-16 at Fenway Park.With the Yanks looking up in the standings they are in a must win situation on a nightly basis, and the need for a series sweep this week against the Red Sox is a big one if they look to gain ground in order to overtake Boston for the divison lead.