By
Ted Mero
on August 18th, 2008 5:01 PM
This entry was posted on Monday, August 18th, 2008 at 5:01 pm and is filed under
Football
,
Jets Rumors & News
. You can follow any responses to this entry through the
RSS 2.0
feed. Both comments and pings are currently closed.
When Brett Favre is not in the picture, one of the more interesting things to watch during the NFL preseason are the feel-good stories of players who seemingly come out of nowhere to make the team.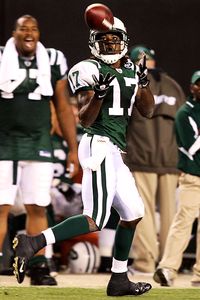 One such player this preseason has been Jets wide receiver David Clowney, a 2007 fifth-round pick for Green Bay who was quickly cut by the team and ended up on New York's practice squad for the majority of his rookie campaign. But the Virginia Tech alum and Long Island native looked as if he might be the speedy deep threat Favre and the Jets' offense needed in 2008 after amassing eight catches for 222 yards and two touchdowns to lead the team through the first two preseason games.
Unfortunately, during that second game against the Redskins, Clowney suffered a collarbone injury and is now expected to miss several weeks, according to Dave Hutchinson of The Newark Star-Ledger. You just hope his recovery is as speedy as his 40 time — 4.37 seconds — and that he can make an impact with the team this season.